In the run up to Christmas, Lambeth Council are employing specially trained Civil Enforcement Officer's to patrol Streatham High Street and hand out Fixed Penalty Charge Notices to members of the unsuspecting public.
Civil enforcement officers employed by some authorities[who?] issue fixed penalties for non-traffic offences using the Community Safety Accreditation Scheme of the Police Reform Act 2002.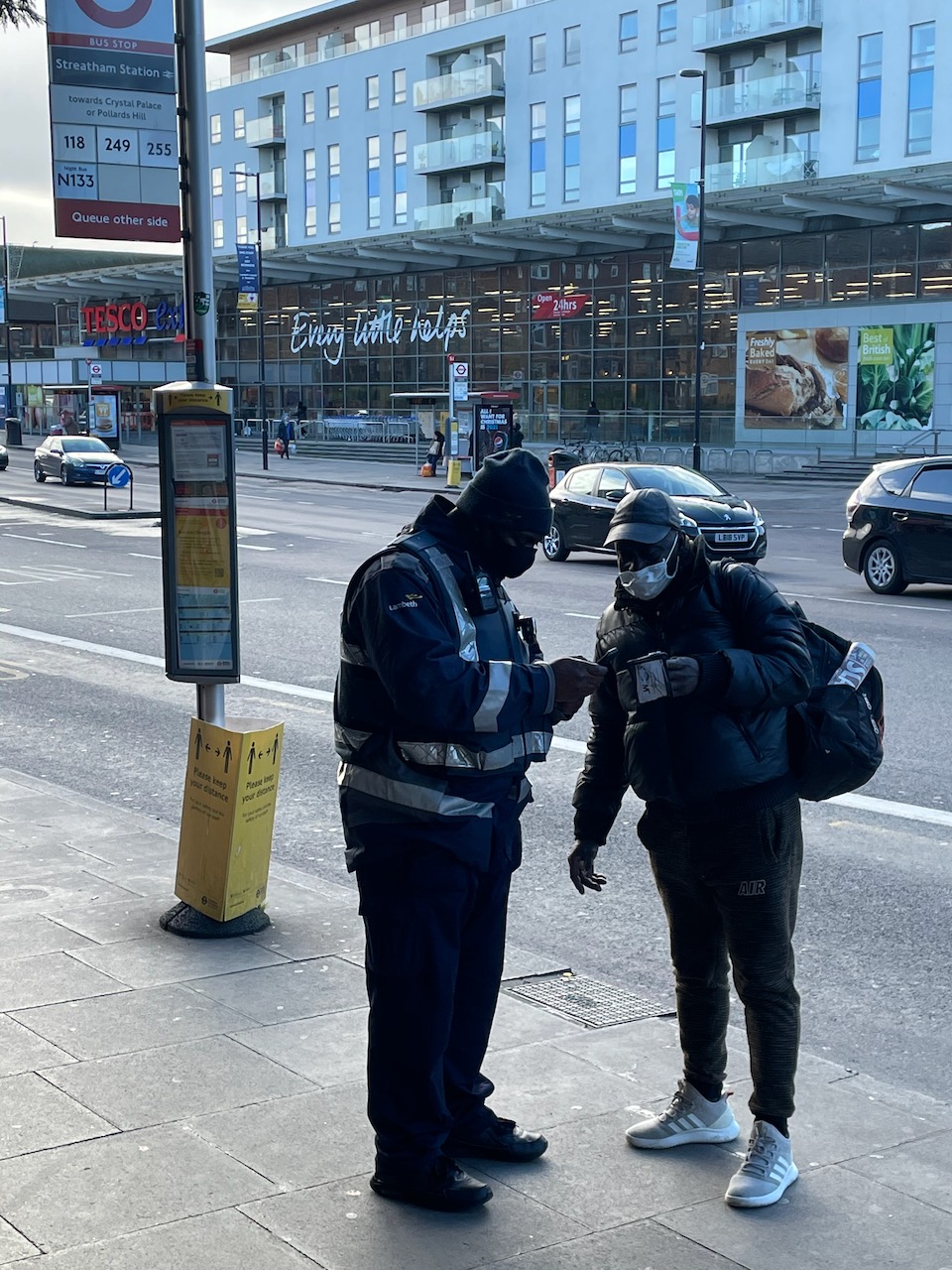 The practice of handing out Fixed Penalty Notices is not new, Changes to the law a couple of years ago by the Environmental Agency have increased the amount of money that can be charged. This is intended to encourage local councils and 'littering authorities' to issue more of these type of notices. Income raised by the issuing of Fixed Penalty Charge notices can be kept by the council.
Fixed Penalty Notices – Environmental and anti-social behaviour offences
| | | | | |
| --- | --- | --- | --- | --- |
| Offence | Legislation | Statutory range for fixed penalty | Minimum discounted penalty | Default penalty |
| Littering | Environmental Protection Act 1990, s.88 | £50 – £150 | £50 | £100 |
| Graffiti | Anti-social behaviour Act 2003, s.43 | £50 – £150 | £50 | £100 |
| Fly-posting | Anti-social behaviour Act 2003, s.43 | £50 – £150 | £50 | £100 |
| Unauthorised distribution of free literature on designated land | Environmental Protection Act 1990, s.88 | £50 – £150 | £50 | £100 |
There is no appeal process if you are unlucky enough to receive one of these fines, However if you pay within 10 days you get the opportunity to pay at a discounted rate of £100, after which it goes up the maximum of £150! If not paid within 14 days of receiving a Penalty notice, the case will proceed to court where you will have a chance to appeal against this notice. That said if your appeal is unsuccessful you could be liable for a tier 4 fine up to £2500 and a criminal record. If the court has not
That said if your case does go to court the burden of proof shifts from "reasonable cause to believe" to "beyond reasonable doubt".
Primarily it would appear that Civil Enforcement officers are targeting smokers who do not dispose of their fag ends properly. For example I saw one Enforcement Officer sneaking up and stopping a member of the public before boarding a bus. Once the officer had confirmed their postcode, name and address they were issued with a Fixed Charge Notice.
Further, an enforcement officer can ask an alleged offender if they have any identification on them – however, this does not have to be provided.
After searching around Lambeth's website, there does not appear to be any information regarding this money making scheme. One would hope that as recommended by the governments own guidelines they would take a softer educational led approach to try and change peoples perceptions and habits. The government guidance advises that a zero tolerance approach is unlikely to be as successful at changing peoples attitudes and a gentler educational led approach backed up by enforcement is recommended. This is less likely to create so much anger, animosity and resentment amongst the public when being handed a large fine before Christmas. Despite this it seems clear that local government see these new powers as an opportunity to raise more money.
Strictly speaking the unintentional dropping of litter is an offence but DEFRA advise that a notice should only be issued if, after drawing the matter to the person's attention, they then fail to pick it up.
References
https://www.sentencingcouncil.org.uk/explanatory-material/magistrates-c…
https://www.thesun.co.uk/news/4762978/fine-for-dropping-rubbish-in-publ…
https://assets.publishing.service.gov.uk/government/uploads/system/uplo…
https://www.gov.uk/government/publications/code-of-practice-on-litter-a…
https://www.cleanhighways.co.uk/legislation/guidance-on-the-use-of-fixe…
https://www.thesun.co.uk/money/5971980/how-much-is-fine-for-dropping-yo…
https://en.wikipedia.org/wiki/Community_safety_accreditation_scheme
https://love.lambeth.gov.uk/page/2/?s=100+fine&op=Search#038;op=Search
https://beta.lambeth.gov.uk/environmental-services/report-offence/fixed…
https://www.freeths.co.uk/2018/01/03/changes-to-fixed-penalty-notices-f…